Liquid waterproofing membranes are relative newcomers to the marketplace, and have improved immeasurably over the last 15 years. Liquid membranes can be used as a finished coating or under the finished surface. Liquid waterproofing membranes come in a large range of polymers including modified bitumen, neoprene, acrylic, epoxy, & polyurethane. Sometimes used as primers, other times as a barrier, and even as a negative tanking membrane, there is usually a liquid waterproofing membrane to suit your project.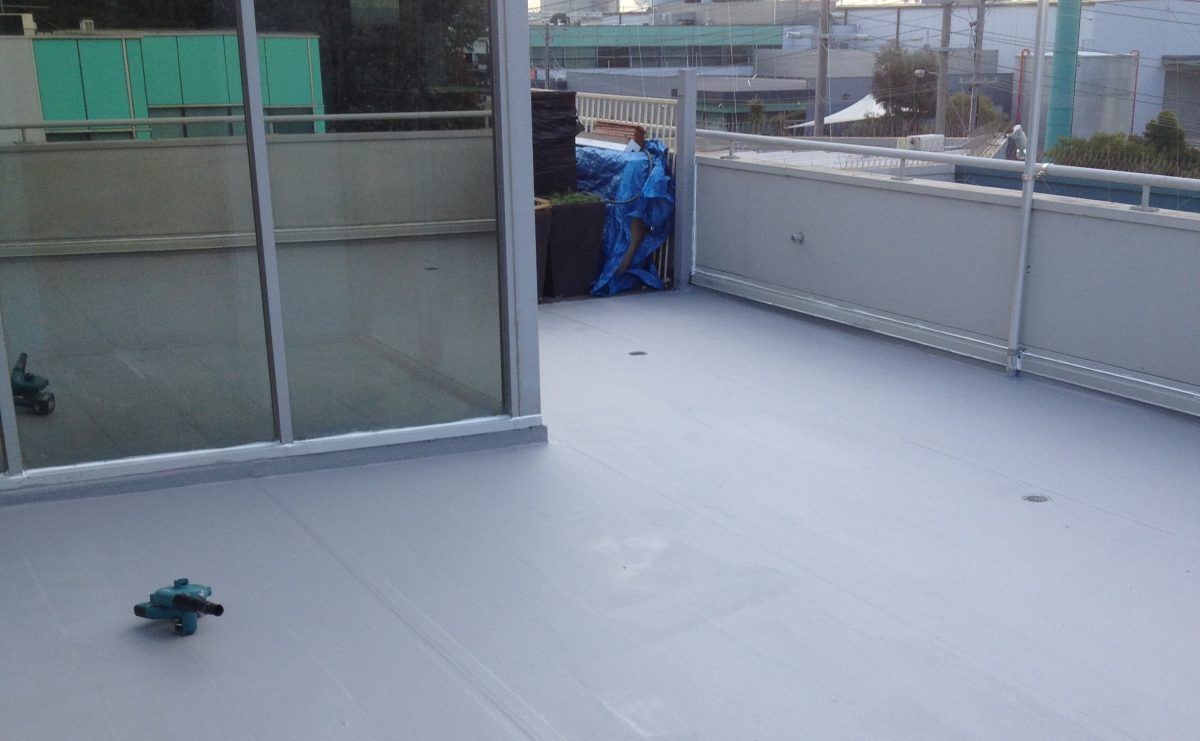 Being applied in liquid form by brush, roller, or spray, a liquid membrane cures with no seams – a "seamless" membrane system. This elimination of seams removes a potential point of failure, and a point which could be subject to attack by birds or rodents. A seamless membrane can also result in a more appropriate aesthetic making them suitable for todays architectural artworks.
A further advantage gained by liquid membranes is that, simply put, no shape is off limits. A liquid waterproofing membrane can be made to conform to any shape imaginable. If you can provide a suitable substrate The Waterproofers can install a seamless liquid waterproof membrane to it.
Roofs
Seamless liquid waterproofing membranes allow for a huge range of design options when building new, and can be a great improvement to existing buildings. Being seamless the finish is smooth and uniform. Often the option of a coloured finish can help the building meet aesthetic requirements other waterproofing options cannot.
Although not designed to last as long or be as forgiving as a sheet membrane like butyl rubber or torch-on bitumen, if the building is structurally sound and the substrate properly prepared there is no reason a liquid waterproofing membrane cannot last as long as (or longer than) other systems on the market.
Green Roofing
Many seamless liquid waterproofing membranes come in a variety of colours. The use of light coloured finishes on a roof can dramatically change the thermodynamic profile of the structure. Light colours will reflect heat keeping the structure cooler in summer, and slow the escape of heat keeping the building warmer in winter.
Balconies & Bathrooms
Liquid waterproofing membranes can be used in conjunction with other waterproofing systems or as the sole solution to waterproofing balconies and bathrooms.
When used in conjunction with systems like butyl rubber, the rubber membrane will be laid below the screed and the liquid membrane over the screed. The liquid waterproofing membranes are also better suited for use on walls than the sheet membrane alternatives.
When used alone, a liquid membrane can be applied both on top of and below the screed, or only on top of the screed. There are benefits to each methodology and it is best to discuss these directly in relation to your project.
Liquid membranes have an advantage over other systems in that you have a wider choice of adhesives to bond your finish surface to the membrane.
Basements & Retaining Walls
Liquid membranes are not our first choice for a basement or retaining wall, but there are occasions where their use is the preferred or the only realistic option. Liquid membranes can be installed into cramped locations where installation of other membrane systems is impractical or impossible. Some liquid membranes can also be used alongside sheet membrane systems to create a hybrid waterproofing system.
Like any other below ground membrane, seamless liquid waterproofing membranes are only your last line of defence. The membrane must be protected, and good drainage must be provided otherwise there will eventually be trouble.
Swimming Pools
Liquid waterproofing membranes are the only solution to waterproof a swimming pool. The chemicals used and temperature ranges seen in swimming pools create very peculiar requirements for waterproofing. We have very specific specifications for waterproofing of swimming pools which must be followed exactly, including the tile adhesives used.