Green roofing means different things to different people. Green roofing can be as simple as using a reflective coating to reflect heat or as advanced as a fully planted living roof. The Waterproofers uses the terms "Green Roof" to describe roof systems where environmentally friendly products are used in conjunction with light colours to aid in the reduction or electricity use. The term "Living Roof" describes a system whereby the roof is planted with flora to not only insulate the building but to help generate oxygen and an environment for fauna to thrive. A living roof system can also act as a bio-filtration system for rainwater collection. Buildings with living roofs are also referred to as "earth sheltered buildings".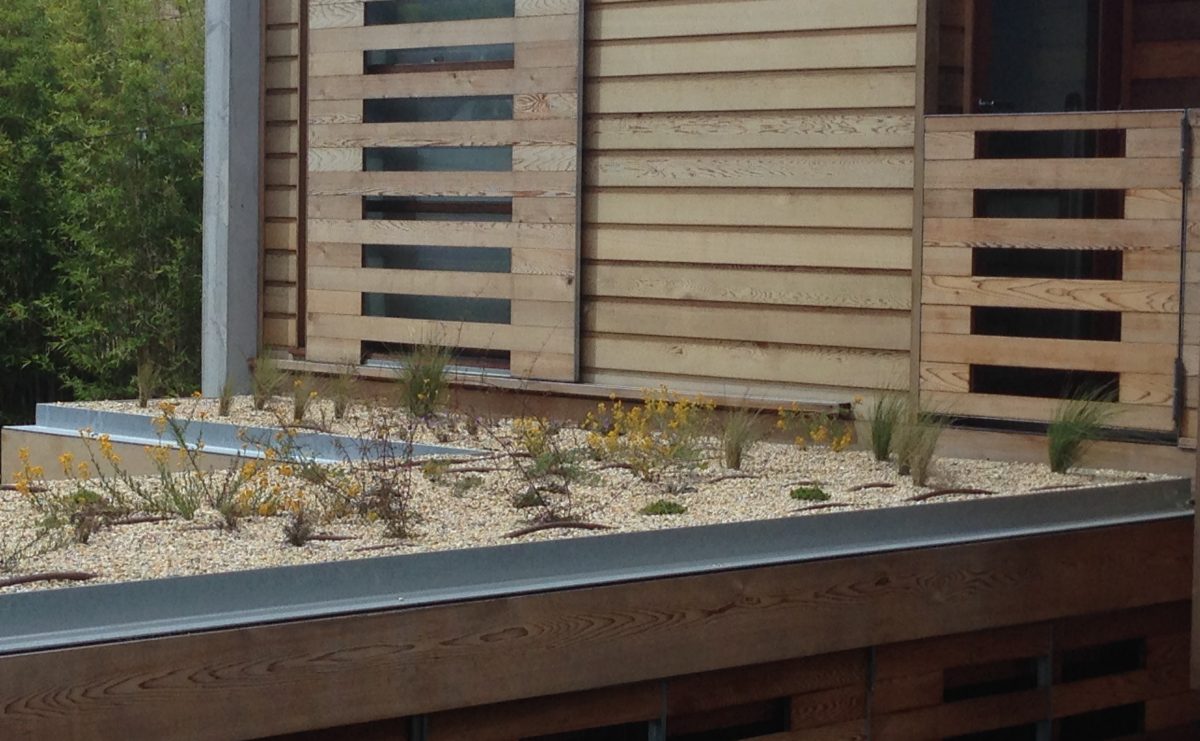 Green roof waterproofing can be achieved using most of our available waterproofing systems. Where the requirement exists for a Low VOC membrane system the only options available are seamless liquid membranes.
Green roofing can achieve a reduction in power consumption as the reflective properties of the membranes reduce the heat transmitted into the building.
A living roof as opposed to a green roof has many advantages, but needs to be carefully planned from its very inception. La living roof will bear a lot of weight and needs to be engineered to do so. The plantings of a living roof should also be designed in consultation with a horticulturist to give a finish which is appealing, low maintenance, and suits the locality of the building.
The very nature of a living roof system creates an excellent insulation system, and has the advantage of being able to be used in fire prone areas. This insulation not only keeps the building cooler in summer, but can assist in heat retention in winter making it a true green roof.
With some forethought and smart design a living roof system can also act as a bio-filtration system for the catchment of rainfall.
A living roof can also be designed to be more of a useable landscape feature than purely a roof top. By integrating paths and outdoor living spaces into the roof it can become an extension of the usable landscape.
Butyl & EPDM Rubber Waterproofing
When using butyl rubber to waterproof a green roof the only option you have is a grey membrane system. Butyl & EPDM rubber really comes into its own when The Waterproofers (in conjunction with Beutyliner) manufacture and fit vulcanised panels for a living roof system.
Beutyliner have been manufacturing rubber pond liners for decades, and what better way to prevent water ingress from a living roof than to have it waterproofed with what is essentially a pond liner. These liners are manufactured to suit your roof design and installed with minimal adhesive use making for a fast and watertight solution.
Seamless Liquid Waterproofing
The Waterproofers steer away from using liquid waterproofing systems for living roofs, but they are the perfect solution for most green roof projects.
Available in a wide range of colour options, a green roof can be waterproofed quickly and aesthetically with a quality liquid waterproofing system. There are many systems on the market today and it is best to choose the right system for you substrate and climatic conditions.